NavNet TZtouch 9" Multi Touch, Multi Function Display W/3M LAN Cable (GPS/WAAS receiver, UHD Radar, and Network Fish Finder can be added.)
Specifications:
| | |
| --- | --- |
| Chart Type | Vector or Raster or Satellite Photo or 3D Data |
| Display Size | 9 inches |
| Display Type | Color Multi Touch LCD |
| Power Usage | 12-24 VDC |
Features:
Nothing is faster than TimeZero
NavNet TZtouch's TimeZero™ technology delivers chart processing like you've never seen before – seamless chart handling, zooming and panning without the screen disappearing. TimeZero™ technology redefines the meaning of stress-free operation by smoothing out your chart handling actions.
Equipped with powerful TimeZero™ technology, NavNet TZtouch will completely transform the way you navigate. You can scroll, pan, zoom in/out with a smooth, fast and seamless graphics engine. Navigating in a fully 3D environment offers you a true perspective and wider area of view around the ship, which allows you to better plan your routes, while TimeZero technology updates the information on your screen with virtually no redraw.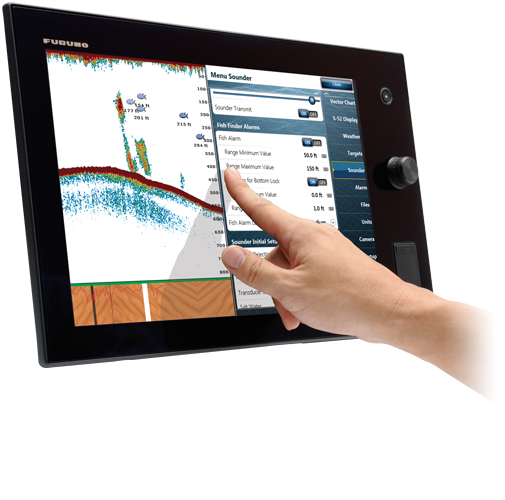 Multi touch control at your fingertips
Furuno elevates marine touch screen technology to an entirely new level with the industry's first multi touch MFD. The use of multi touch technology opens the door to a wide variety of gesture-based commands. NavNet TZtouch's waterproof display is also ruggedized to perform perfectly in wet, harsh conditions.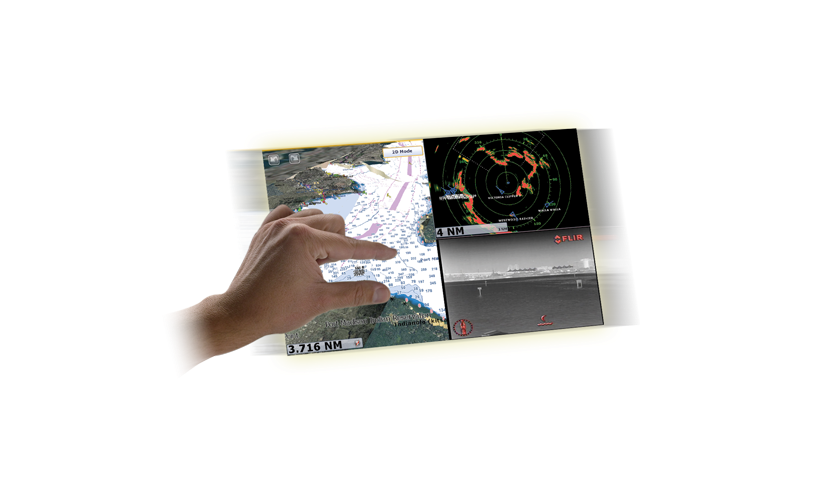 Pinch to zoom and other intuitive gestures
Be more hands-on with our easy-to-understand touch screen interface. TZtouch brings you pinch-to-zoom capability, as well as other multi touch gestures for the most intuitive navigation experience. You'll have full control of each component connected to the network right at your fingertips. Navigation is simplified by using your fingers to zoom and pan around the chart. As soon as your fingers touch the display, taps, pinches and swipes are instantly transformed into action. You will learn your controls so quickly that you'll be up and running in no time. To make operation even easier while underway, adjustments such as range and gain are easily made from either the on-screen touch menu or our patented RotoKey™.